Niemals mehr fliegt der Starliner
Branchen News
Sie gilt als schönstes Flugzeug seiner Zeit die Lockheed Starliner L-1649A.

Als Erinnerung an die Transatlantikflüge der Lufthansa sollte die Machine wieder flugtüchtig gemacht werden. Zehn Jahre gingen dabei ins Land und
Millionen Euro flossen in das Projekt. Jetzt ist das Projekt wohl gescheitert.

Für die Flugbegeisterten wollte die Lufthansa mit dem Oldtimer Nostalgie Flüge anbieten. Doch trauert nicht zu viel. Zum Trost könnt ihr euch mit der Junkers Ju-52 Lufthansa einen der Rundflüge in Mitteleuropa gönnent.
Der Kommentar von Robert Togni zu seinem Bild auf flickr:

Lockheed Constellation L1649A Starliner #N974R

In June 2009 we find N974R a Lockheed Starliner L1649 Model c/n 1040 resting at the gate entrance of Fantasy of Flight, Polk City, Florida USA looking still elegant but with fading paintwork This aeroplane has been sold for restoration to Lufthansa Berlin in December 2007. Initial purchaser when new was Lufthansa of Germany, delivery date was December 1957 and registration was D-ALAN
N974R flew into Polk City from Sanford Florida a few years ago and has rested here ever since.
The memory of a Constellation that i have from my LHR London Heathrow plane spotting days was unforgettable, surely one of the very best designed and elegant aeroplanes ever manufactured. Operators into LHR Heathrow included B.O.A.C. TCA (Trans Canada Airways) TAP (Portugal) Air India , TWA (Trans World Airways) Skyways of London. Air France.
Visit www.conniesurvivors/N974R.htm for full history of this aeroplane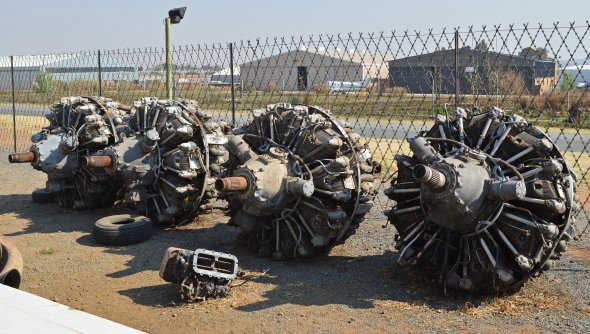 Der Kommentar von Also Wilson zu seinem Bild auf flickr:

Engines from Lockheed L-1649A Starliner 'ZS-DVJ'

Starliner c/n 1042 was built in 1958 for Lufthansa as 'D-ALOL'. Later in life it flew with Trek Airways as 'ZS-DVJ' and after retirement was for many years on display at Johannesburg Airport. Later removed from display, the airframe is now stored near the Denel hangars on the Eastern side of the airport.

It is now in the process of being dismantled and moved by road to the South African Airways Museum, and the engines are seen here at their new home of Rand Airport, Gauteng, South Africa.
18-09-2014
{loadposition user7}
{joscommentenable}